We handle the entire manufacturing process, from 3D modeling to installation.
You won't believe how efficiently we can produce shop drawings, then manufacture and erect steel structures—no matter how large or complex the project is.
Manufacturing
Production capacity
that stacks up to industry standards
Our manufacturing and storage facilities can handle the capacity requirements of even the largest construction projects.
With our state-of-the-art equipment, we can automate our manufacturing processes to a high level of precision whether we're manufacturing conventional steel structures or custom and non-standard parts. We also manufacture architectural elements with high-quality finishes (AESS).
Three plants with a
capacity of 30,000 tons per year
Overhead traveling cranes capable of
lifting over 60 tons
125,000 sq. ft.
of production shops
1,000,000 sq. ft.
of storage space
Delivery
It's all about Timing
Just-in-time delivery and sequenced delivery by priority are part of our procedure on all projects.
Our production management style is efficient and flexible so we can adapt to fit your deadlines. We have 1,000,000 sq. ft. of storage space to ensure a smooth transition from the plant to the job site. That way, manufactured parts can be delivered the moment our installers on site are ready for them.
Health and safety
People first
Beauce Atlas is known throughout the industry for being at the forefront of best practices in occupational health and safety.
Health and safety considerations are always a priority for us. Beauce Atlas has a team of experts whose sole job it is to enforce health and safety standards in the plants and on construction sites. Our experts are consistently on site to make sure that all workers and subcontractors strictly adhere to the most recent rules and procedures. That means one less thing for you to worry about!
Stringent certifications
Our team of health and safety experts are COR and OSHA certified by the most rigorous and demanding Canadian and American certification organizations in the field.
No project is a success if it puts the lives and safety of our workers at risk.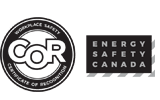 Quality standards
Satisfaction
without compromise
Compliance with the latest construction standards is non-negotiable. Our field team and suppliers meet all the certifications required to do their jobs. Our manufacturing and installation team is always up to date on required standards and best practices. We are constantly checking to ensure compliance with the appropriate procedures.
Industry standards
Beauce Atlas is recognized by the most credible organizations and associations in the steel construction industry.